New Urban Jungle Cityscapes by PMILLER
Visit www.millermodernart.comto see all our new products. Drop us a note if you have questions or comments!
Living in a city can be an intense, spontaneous experience. They pulse with light and activity. Cities are industrious and busy by day. At night, their mystery and lushness come alive. A city can stimulation your passion and all of your senses. In my cityscapes, I try to capture the electric colors, stunning skylines and interesting architecture that can be found when visiting an urban jungle.
These paintings have wonderful pastel and jewel hues. You'll get a hint of whimsy, however, I've added stark black lines and metallic/ neon acrylic paints to give them a modern edgy feel. My Urban Jungle paintings have been described as "Modern impressionism with a twist", and as" Colorful, Bold and Joyful!".
"Red Dawn"
"Tokyo Twist"
Limited Edition Giclee is hand embelished, signed and numbered by me. It is 11 x 14 and can be presented either mounted or rolled. Please allow 2 weeks for shipping because of the customization. Certificate of Authenticity, Artist Bio and Current Gallery List Price Included. Here are a few examples of what we have available:
"Dark Night"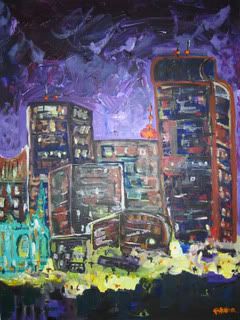 "Hong Kong Hustle"