New Vacation Series Seascape by PMILLER
Here is my latest painting in the vacation series. I will be discussing the evolution of this series (in addition, later I will be discussing the evolution of my other series Kung Foo Circle Series). Both I originally started 5 years ago as a hobby and now that I am painting full time, all of my paintings have begun to evolve adding more metallics(in different colors), slight changes to the basic feel of the series and more. If you've watched my work for awhile on a casual basis, you are probably nodding your head saying, "Yeah I was wondering why in the series, I see paintings that vary a little in style/feel AND why some of the series is available only in prints". Now you know!(or my customers who follow me are saying, "I knew that!" because they own the original).
Mystical Morning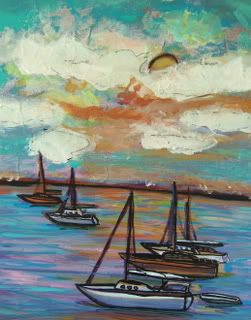 Buy or View
This series is inspired by my love of taking tropical vacations. Vivid tropical colors with deposits of metallics like gold, silver and copper make these paintings full of light and energy. Indulge your senses. Be able to relive your favorite vacations (or be inspired by mine). The paintings in this series are done in both acrylics on canvas and watercolor/mixed-media on heavy watercolor paper.